Christian Herzog and Dolan Wolf
There is something super hot about the double dildos. Check out now the entire cazzo club video too see how the muscled hunk Christian and dark and hairy Dolan Wolf are going to practice some ass acrobatics. They want them large plus they need them very deep down there. They could each take half of an extended, heavy double black dildo. Christian pushes his fists into Dolan's butthole. And Dolan stuffs  his arm inside Christian, up to the elbow. Check out this amazing video and see how these two nasty guys are gonna get dirty with that black sex toy. It's like you are looking in the mirror, that's how it seems like at the very first sight. These two like it so much to have their ass stuffed with a big cock that, after a fight of who should be the alpha male now, they found a compromise.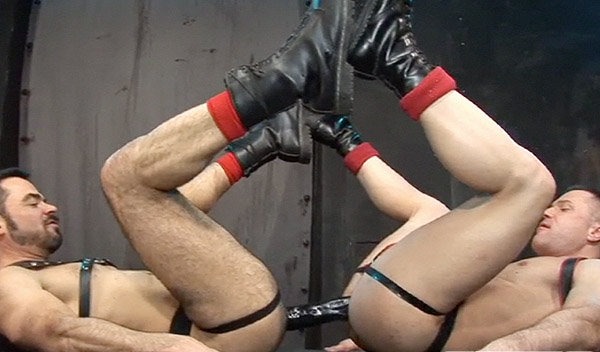 These attractive gay guys found a double dildo, so in that way they could both be fucked in the same time, without any more arguments. Have fun with these two hunks and see who is going to be the lucky one who will get the most of that dildo into that tight ass and what other kinky stuff are they going to do with each other. This amazing update it's going to be legendary so you should take advantage of it and see what happens right next with these two horny guys. Enjoy every second of this superb scene! It's gonna end up with creamy jizz!